Events, training sessions and study trips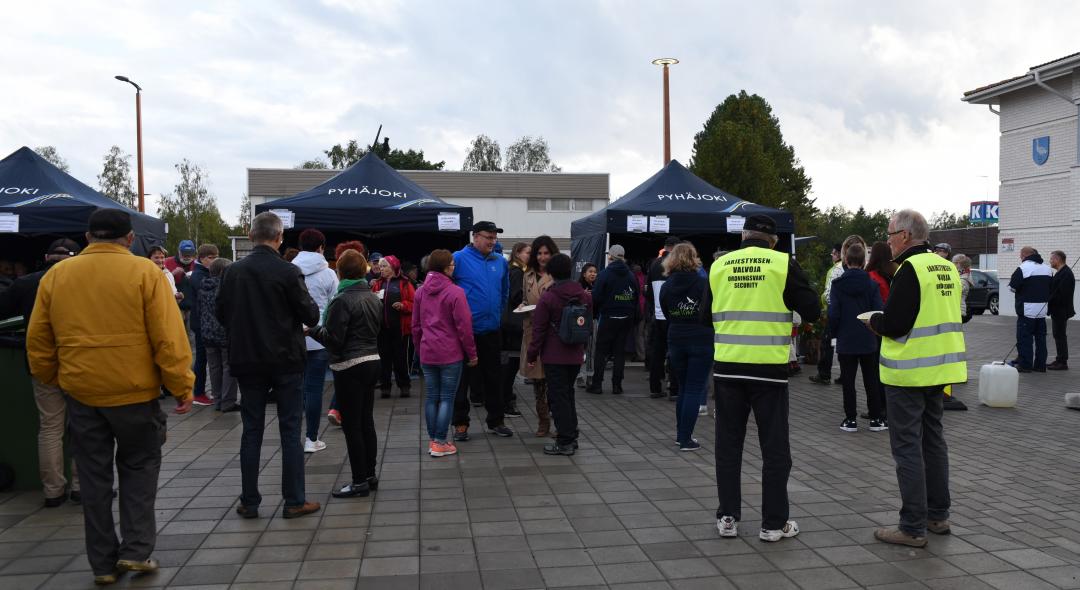 The Welcome to Pyhäjoki! Project organises a variety of events for the whole family together with different partners and collaborates with events already established in Pyhäjoki.
The opening event of the project, "Syyään yhesä!" (Let's eat together!) on 5 September 2019, was a great example of a food culture event. Events involving music, dance, customs and party culture are also being planned along with events that bring together companies offering work and professionals looking for new jobs.
Training events and workshops related to the project will address topics such as acknowledging new member and customer groups as well as themes related to multidimensionality and intercultural communication. There will also be lectures by experts about their experience and workshops related to the basics of Tandem language learning.
The project also enables thematic study trips into nature. The themes listed in the project plan include, for example, the right of public access, berry and mushroom picking, fishing, hunting and outdoor exercise and hiking in winter, but other themes are also possible. Associations in Pyhäjoki and experts of each theme are responsible for the practical arrangement of the study trips.
Upcoming events, training sessions and study trips:




(main organiser in brackets)
28.7. at 18-20 International Yard Games Night in Merimaja Dance pavillion (Rannanmäentie 70)
6.8.2020 at 18-20 Pyhäjoki Tandem Café (language café) in Annala local history museum (Annalantie 20)
11.8. at 18-20 International Yard Games Night in Kielosaari sports park (Ruukintie 37)
All of summer 2020: Pyhäjoki Bike-orienteering Challenge
Fishing Study trip, Saturday afternoon (3-4h). Coming in August or September. Registration opens soon!
Contact information
A shared email for both project workers: tervetuloa [at] pyhajoki.fi
Project Manager Katinka Käyhkö katinka.kayhko(a)pyhajoki.fi, 040 3596012
Project Coordinator Tanja Ryymin tanja.ryymin(a)pyhajoki.fi, 040 3596198
 
Visiting address: Kuntatie 1, 86100 Pyhäjoki (1st floor)
Project´s Facebook page: @TervetuloaPyhajoelle  
Project on Twitter: @pyhajoelle
Registration form for volunteering
Subrscribe to Project newsletter